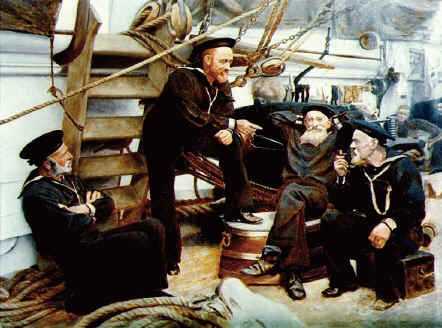 Allow me to introduce the Secret Scurvy Dog Society (SSDS) and myself.
I am a former ASROC GUNNERS' MATE. I enlisted in '75 and, after a year in schools, (BEEP NTC San Diego, GM "A" and GM "C" NTC Great Lakes) I reported to the USS McKEAN (DD 784) home ported in Seattle. We shared the pier with the USS HIGBEE (DD 806). DESRON 37 consisted of us plus the ORLECK (DD 886) out of Tacoma, the ROGERS (DD 876) and HAMNER (DD 718) out of Portland and the fleet tug MOCTOBI (ATF 105) out of Everett.
I was discharged in '80 and by '81 all the ships in the squadron had been decommissioned.
About six years ago I became nostalgic and joined TIN CAN SAILORS (TCS). I later joined THE ASSOCIATION OF GUNNERS' MATES and THE NAVY NUCLEAR WEAPONS ASSOCIATION. I wrote a few stories, which were published in the TCS newsletter.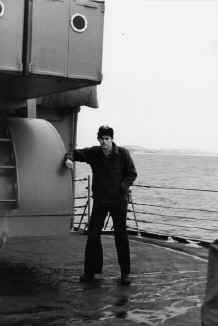 Two years ago I was contacted by Bob Cohen and Dick King. They too had works published in TCS. We banded together, drew in a few of our shipmates and formed the SSDS. There are 10 of us and all but 3 have served on FRAMs. (Larry Pallazola even served TAD on the ORLECK in the late 70's.) We chat on-line about our experiences in the Navy. We discuss naval history, naval equipment, naval tactics and large breasted women.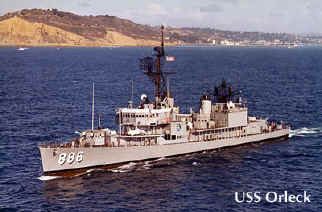 Last October, five of us made it to Orange, TX and toured the ORLECK. We spent two days poking and prowling the bowels of the ship. I doubt that a formal Navy InServ team could have made a more thorough inspection. I made contact with the ORLECK's Asrocketeer Steve Davis.
We volunteered our assistance, in anyway that we could, to the restoration work being done on the USS ORLECK.
In this area you will read of some of our experiences in the U.S. Navy. These are uncensored and clear cut stories of sailors doing their job and their life experiences. Be apprised- the language used may be offensive to some but is typical on-ship. You have now been warned!
J'ai Bon Esperance
Dave Hood (pictured at left...when he was much younger on the USS McKean)