SET THE SEA AND ANCHOR DETAIL
By Dave Hood, GMT2, USS McKean (DD 784)
Destroyermen can be rather elitist. Snobbish even. When naval action is called for, be it combat, recovering a downed pilot, rescuing survivors of a shipwreck, a destroyer is usually first on the scene and the last to leave. They have a "can do" attitude. When I told my parents that I
drew duty onboard a destroyer, my step-father, a WWII Marine, told me that he was delighted by that choice. He said that he noticed that Destroyermen had a certain cavalier arrogance to them. They bode of confidence and were the personification of "espirit de corps". I think the tern "cocky", is quite accurate.
Not much impresses a Destroyerman.

SEALS, F-4 pilots, Israeli soldiers, astronauts (the old ones, not those new "Space Shuttle" ones), Marine Gunnery Sergeants and Jamie Lee Curtis might impress a Destroyerman, but not much else. Certainly not supply ships, aircraft carriers, amphibs, tugboats,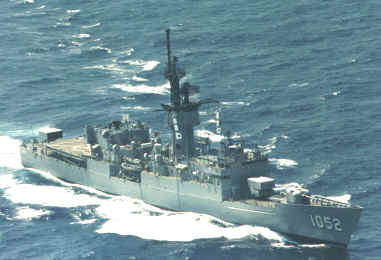 Frigates or the entire United States Coast Guard. Especially not Frigates. We hated Frigates. And we took pity on the sailors who served on them.
We referred to the KNOX-class FF as "half a ship" (USS KNOX (DE-1052) seen right), or "Congressional Yachts." We mocked their single 5" gun mount, their twin boilers, their single screw and their top speed of only 27 knots. Real ships, like a GEARING-class DD had at least four 5" guns, four boilers, twin screws, twin rudders, a 35 + knot

speed, and best of all, they didn't need a stinkin' tug boat to get in and out of port with!
There are three ways to refuel a warship: You can UN-REP (Underway Replenishment); You can have a fuel barge brought alongside, or you can sail to a fuel dock. The Navy had one fuel dock at Point Loma, just inside San Diego Bay.

In March and April of '78, the U.S.S. McKEAN DD 784 was in So Cal waters for RefTre.

(Southern California waters, i.e. San Diego, for Refresher Training.) On the 21st of March we refueled off the U.S.S. WICHITA AOR 1 (seen left). We again refueled off her on the 22nd. We pulled into La Playa for fuel and ammo on the 31st.
On the 4th of April, we un-reped off the USS CONSTELLATION CV 64. We gassed up at Point Loma on the 7th.
. On the 10th we un-reped from the U.S.N.S. TALUGA AO 62.

We finished RefTre on 11 April with a passing score. We pulled into 32nd Street for a deserved overnight liberty.

On the 12th, we set the Sea and Anchor detail and steamed from 32nd Street to Point Loma.
We moored port-side with our stern facing the open sea.
There, we gassed up and on-loaded 5" ammo and six warshot ASROC missiles.

Our next stop was home, Seattle, with a liberty stop in Eureka, California on the way. We were tired, homesick, horny and we were Destroyermen.
Just as we were ready to set the Sea and Anchor detail to get underway, a KNOX-class frigate pulled up (seen right) ….with a tug.
We lined the rails, chewed tobacco (a Sea and Anchor tradition aboard the McKEAN) and watched the tedious method in which the FF parked in front of us, it's bow facing the sea.

When it's lines were on the pier, the tug cast off and maneuvered over towards us.

Our C.O., Commander Larry Smith had a fit. "Get that $!*& tug away from my destroyer! No %&$(*&% tug is going to touch my ship!" he waved the tug away and we singled up all lines.

With Capt. Smith still yelling at the tug, we took in lines 2,3,4 and 5, and finally, line 6.
The starboard engine was signaled to go forward and the port engine reverse. The rudder was cranked to starboard and line 1 was brought aboard.

The stern pivoted away from the pier and the rudder was placed amidships and both engines were placed into reverse.

With more distance gained from the pier, the starboard engine was signaled forward and we spun 180 degrees along the length of the FF.

With our bow now pointed out to sea, we came up alongside of her, perhaps no more then fifty feet separating us.

We were close enough to the KNOX-class to see that her line handlers were standing on the port side of their ship amazed at this display of maneuverability.

To further impress them as to what a real warship could do, Capt. Smith ordered "ALL AHEAD TWO-THIRDS!"

The look on their faces confirmed that they were astonished at our speed.

And to completely impress them with our espirit de corps and cavalier attitude, STGSN Piper rendered them honors by going to the stern and mooning them just as we passed their bridge.
The KNOX's C.O. wasn't so impressed.

He sent a message to Capt. Smith and lodged a protest over being mooned.

The duty MAA quickly identified Piper as the guilty party-he was the one grinning and we were the ones rolling on the deck laughing.

Piper was taken straight to the bridge and disciplined on the spot. He was confined to the ship for 48 hours.

Two days and two hours later, we pulled into Eureka, California for one of the best liberties ever
!