Originally built as "Gearing Class" Destroyers, Eight of this class were converted from DDs to Carpenter Class DDKs in April 1949. This program began when the Carpenter was moved to Newport News, Virginia from Consolidated Steel, Orange, Texas and completed with the Robert A. Owens completed at Bath, Maine, as Hunter-Killer Destroyers by mid December 1949. Another six ships were completed under the 1949 program at the Mare Island Navy yard resulting in a total of eight Carpenter Class ships rated as DDKs until March 4, 1950, when the DDE and DDK types merged. All eight vessels were reclassified as DD on June 30, 1962.
These DDK ships were completed and converted from the former Gearing class DD in order to form groups for the purpose of long and short-range interception of submarines before they could attack convoys. This DDK conversion consisted of equipment specifically designed to locate enemy submarines, track and destroy them which consisted of the Mk 100 Underwater Fire control system to coordinate the firing of the MK 23 torpedo launchers. Torpedo storage consisted of 20, Mk 35 or Mk 37 homing torpedoes. The Mk-56 fire control system controlled the MK 15 trainable Hedgehog weapons projector (Weapon B) which was installed where usually the second forward 5-inch mount would be located (mount 52) on a standard GEARING.
These ships were eventually equipped with the MK 108 Weapon A which fired a fast-sinking 250-lb charge approximately 1000 yards. Combined with the latest radar of the time, the CARPENTER class ships had the highest Anti-Submarine warfare (ASW) capability of any destroyer class prior to FRAM . While Hedgehog was eventually removed prior to FRAM as Weapon A was more effective, the CARPENTER class ships set the strategy for greater stand-off weapons deployment which would be expanded in the FRAM program.
FRAM:
FRAM was different for the CARPENTER class versus the other GEARING variants in that the CARPENTER class were eventually equipped with two 3-inch / 70 caliber enclosed gun mounts with the MK 15 Hedgehog removed, prior to FRAM. These were not the standard guns for the GEARING class but deemed adequate to the CARPENTER class role of extensive ASW. Further the FRAM level was not the same for this small class of vessels:
| | |
| --- | --- |
| | Fred T. Berry, Keppler, Lloyd Thomas, McCaffery and Norris underwent FRAM II conversion at a total cost of $ 22,500,000 in FY 1962 |
| | Carpenter and Robert A. Owens underwent FRAM I conversion at a total cost of $ 15,400,000 in FY 1965. |
When the Carpenter Class received FRAM in FY 1961-1962, FRAM replaced the older 3-inch gun mounts with the standard 5-inch/38 caliber gun mounts. The Carpenter and Robert A. Owens lost their aft gun mount (mount 53) when the DASH hangar and flight deck was installed whereas the others of this class kept them. Further, while BERRY, KEPPLER, LLOYD THOMAS, McCAFFERY and NORRIS got to keep their aft 5-inch/38 caliber gun mount (mount 53), they did not get ASROC as CARPENTER and ROBERT A. OWENS did.
CARPENTER CLASS DESTROYERS

Name of Ship

Hull No.

Builder

Launched

Stricken Date

FRED T. BERRY

858

Bethlehem Steel, San Pedro

28 Jan 1945

15 Sept. 1970

CARPENTER

825

Consolidated Steel/ completed by Newport News

30 Dec. 1945

20 Feb. 1981

HARWOOD

861

Bethlehem Steel, San Pedro

24 May 1945

1 Feb. 1973

KEPPLER

765

Bethlehem Steel, San Francisco

24 June 1946

1 July 1972

McCAFFERY

860

Bethlehem Steel, San Pedro

12 April 1945

30 Sept. 1973

NORRIS

859

Bethlehem Steel, San Pedro

25 Feb 1945

1 Feb. 1974

ROBERT A. OWENS

827

Bath Iron Works, Bath ME

15 July 1946

6 Aug. 1987

LLOYD THOMAS

764

Bethlehem Steel, San Francisco

5 Oct 1945

12 Oct. 1973

CARPENTER CLASS DESTROYER SPECIFICATIONS AFTER FRAM

Displacement:

Carpenter and Robert A. Owens: 2,500 tons standard (3,550 tons full load) Other Six: 2,425 tons standard (3,500 tons full load)

Dimensions:

390 1/2 x 41 x 19 feet

Guns:

Carpenter and Robert A. Owens: 1 qty, TWIN 5 inch/38 caliber MK 38 Gun Mount installed at forward mount (Mount 51)
Other Six: 2 qty, TWIN 5 inch/38 caliber MK 38 Gun Mount (Mount 51 and 53)

Weapons:

Trainable hedgehog. 6 homing torpedo tubes (2 Triple mounts). 2 qty, DASH Helicopters

Carpenter and Robert A. Owens also received MK-112 ASROC launcher

Machinery:

2 Westinghouse turbines coupled to 2 DeLaval locked-train double reduction gears. 2 shafts, 350 RPM, SHP: 60,000 = 34.5 knots

Boilers:

FOUR Babcock & Wilcox working pressure 565 PSI at 850 degrees F

Oil Fuel:

4,647 barrels NSFO and 167 barrels of Diesel Oil = 650 tons

Radius:

At 2,425 tons standard maximum speed is 34.5 knots with endurance of 6,500 miles at 15 knots

At 3,479 tons full load maximum speed is 31.3 knots with endurance of 5,370 miles at 15 knots

Complement:

Allowance: 264 (14 officers, 250 men) Accommodation for 21 officers, 270 men.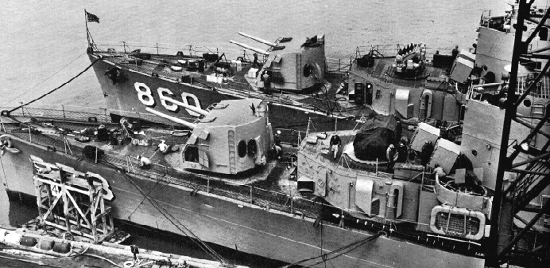 USS McCaffery (DD-860) undergoing DDK conversion along side USS Fred T. Berry (DD-858). Shown at Mare Island Navy Yard on April 28, 1949