When the Gyrodyne Helicopter assets were purchased by a California business man in October 1999, Gyrodyne Board members Robert H. Beyer and Peter P. Papadakos (son of the late founder) decided that action needed to be taken to preserve the rich history of the company and that also of the Navy's DASH Weapon System.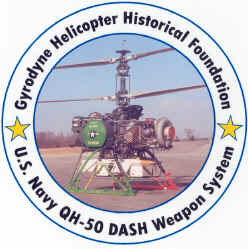 When the hard assets began the arduous move in October 1999, the Helicopter assets were scattered between three buildings with no helicopter-dedicated employees working the assets. It literally became a treasure hunt! During the move of the Gyrodyne Helicopter assets during October of 1999, the idea was created that some assets be transferred to a new organization dedicated to the preservation of the historical assets so that the incredible and rich story of Gyrodyne be told. That Organization eventually became the Gyrodyne Helicopter Historical Foundation.
Our Organization started with just 2 former Gyrodyne employees, as pictured at right, going through DASH Ship plaques discovered in the basement of Gyrodyne's late founder and President, Peter J. Papadakos (1914-1992):
Robert H. Beyer; (white shirt) Former 11 year Employee and Current Board member (24 years) of Gyrodyne Company of America)

Peter P. Papadakos; (green coat) Son of late Founder Peter J. Papadakos, Former Gyrodyne Board Member and DASH Archivist.
While we have remained a small, close knit group, our successes in saving the archives of the company and those of the Navy's use of the only vertical take-off and landing unmanned aerial vehicle (known as DASH) in its' history and then sharing them with the world has been a tremendous achievement. The constant contacts we received from former Naval officers and Sailors that operated DASH (Drone Anti-Submarine Helicopter) as well as former Gyrodyne employees, led us to develop a better and more historical web site that commemorated the hard work of all Gyrodyne and U.S. Military personnel that created and expanded the mission of the only deployed VTOL UAV in the world and the support from that community has been astounding!
Eventually, in early 2000, we began to actively support the then roughly 6 museums that had a DASH on display. We provided Archival photographic sets to show the QH-50C/D in its' development, test, production and deployment phases. We also wrote and published a 5 page history on DASH that detailed the development and accomplishments of that program- accomplishments that have never been replicated, and then distributed the publication to the participating museums. We also provided NAVAIR flight manuals so that the museums could maintain their DASH for future generations to see what the Naval capabilities back in the 1960's existed that indeed, were well ahead of its time.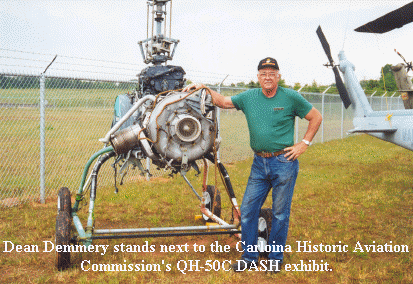 In the middle of 2000, we began to receive correspondence from other museums seeking parts for their QH-50's on display. As the QH-50 is STILL an ACTIVE asset of the U.S. Army's Program
Executive Office, Simulation, Training and Instrumentation (PEO STRI), all surplus parts that become available are usually sent to them. Now our role began to change to that of not just providing technical support, but of assisting museums in attainment of parts through the Army. The Foundation also began a relationship with the sole user of the QH-50, that being the U.S. ARMY's PEO-STRI Project Manager. Their assistance has been a key to our success and we cannot thank them enough!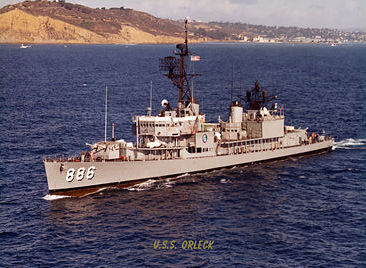 Then, in late 2000, we started hearing from three ship-destroyer museums (first 2 are actual ships) USS ORLECK (DD-886- seen right) berthed in Orange, Texas and the USS JOSEPH P. KENNEDY, JR.(DD-850), berthed in Fall River, Massachusetts. We also were approached by a retired U.S. Navy Rear Admiral representing the land-based museum for the USS RADFORD (DD-446). These 3 ship museums were desperately interested in attaining a QH-50 DASH exhibit for the very ships DASH flew from. On their behalf, the Gyrodyne Foundation submitted requests to the Army for three non-serviceable, yet authentic and complete QH-50 Helicopters.
By July 16 and 17, 2001 the dreams of those three museums were realized when each received a QH-50C from the U.S. Army's facility at White Sands Missile Range, New Mexico (WSMR). The Gyrodyne Helicopter Historical Foundation provided technical support at WSMR by completing the museum aircraft that were missing parts before they left the base! We also assisted the museums by making sure each had a complete control system for both Deck and CIC stations. Our Foundation also attained a set of rotor blades for both USS LAFFEY (DD-724) and the Carolina Historic Aviation Commission (CHAC). We also got a tail assembly for the CHAC as well as bomb shackles and sway braces for our next goal.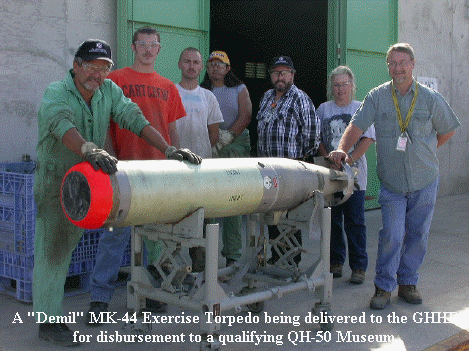 In late 2001, we established a good relationship with personnel of the Naval Undersea Warfare Center (NUWC) in the hopes of equipping all QH-50C's on display with the twin MK-44 Torpedoes the aircraft flew with in its ASW (anti-submarine warfare) role. At present, Gyrodyne Helicopter Historical Foundation (GHHF) is coordinating with NUWC and also the Inactive Ships Program Office (mothball fleet ) at the Naval Sea Systems Command as well as the ARMY's Hawthorne Ammunition Depot to see if enough MK-44's can be demilitarized at an economic order quantity for all to share. By late 2003, many Mk-44's had been received by the GHHF and were being disbursed to qualifying museums.
By early 2002, the old archives of Gyrodyne's involvement in the FRAM Program were discovered resulting in the FRAM Web Site being published so all Museums could see what their QH-50's and their associated control equipment looked like on actual ship installations. Additional FRAM ship-based equipment acquisition from the U.S. Army's PEO STRI (Simulation, Training, and Instrumentation Command) such as the deck controllers and antenna controllers for all QH-50 museums is the ultimate goal for late 2003 to 2005. This along with the demil'd Torpedo acquisition from the ARMY and NavShips are our current priorities.
While we may have strayed a bit into demil'd weapons, our principle goal remains the same-
1.
To encourage the existing aircraft and naval ship museums (that have Gyrodyne's QH-50 co-axial helicopters on display as exhibits) to increase the quality of their QH-50 DASH exhibits by providing them archive photos, printed and video materials as well as spare parts for the helicopters and accessories thereto, to commemorate the history of the aircraft, the company that built them and the services that flew them;
2.
To assist non-QH-50 equipped museums in order for them to acquire an example of a Gyrodyne QH-50 co-axial helicopter for exhibit purposes;
3.
To foster better understanding and expand the knowledge base of the DASH weapon system and principally the Gyrodyne Helicopter Company's participation in that program as well as the other out-growths of Gyrodyne's QH-50 helicopter, by way of this web site.
4.
To eventually operate an expanded Museum to show the American public the unique aircraft models designed and manufactured under the U.S. Navy's Drone Anti-Submarine Helicopter (DASH) program which Gyrodyne Company of America was prime contractor for.

The Gyrodyne Helicopter Historical Foundation is supported by donations received by former DASH military and civilian personnel and by the public at large that support our DASH equipment retrieval from military bases for museum displays and our DASH archive research and distribution work.
IF you feel that this work to save the history of Gyrodyne and the DASH Weapon System it created through its QH-50 helicopter
merits your support, please send your donation to the address below. Gyrodyne Helicopter Historical Foundation also seeks any and all memorabilia related to Gyrodyne and the Navy's DASH Weapon System.
The Gyrodyne Helicopter Historical Foundation is a non-profit, private foundation incorporated under the laws of the State of Nevada.
Help us Complete ALL QH-50s in museums and field more.
Help us Keep DASH ALIVE!