The Model QH-50A
Powered by a single 72 HP Porsche engine, the QH-50A was the droned version of Gyrodyne's optimized XRON-1 Rotorcycle which had a 20' rotor diameter.
Based on the satisfactory results obtained with the modified automotive Porsche engine, the Navy Bureau of Aeronautics (BuAir) authorized Gyrodyne to enter into negotiations with the Porsche Company of Germany to develop a more suitable engine for the Rotorcycle application. Accordingly, two models were developed, the first one rated at 55 horsepower and the second rated at 72 horsepower.
The Porsche engine model rated at 55 horsepower was installed on a rotorcycle with a 17-ft. rotor and was demonstrated at NATC, Patuxent River, Maryland within applicable specifications.
The 72-horsepowered model of the Porsche engine was installed on a Rotorcycle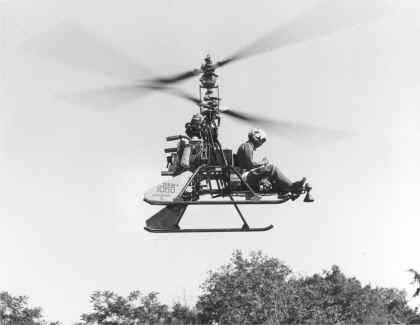 incorporating a 20-ft diameter rotor and transmission for the higher horsepower (as seen right). Its first flight was in 1959. This aircraft was also demonstrated at NATC in 1959 and formed the basic airframe for Gyrodyne's entry for the developing unmanned remote-controlled helicopter requirement the Navy was seeking to fulfill. This helicopter also won the Grand Prize for the most maneuverable helicopter in the 1961 Paris Air Show at Le Bourget, France.
Despite Gyrodyne's success in the development of its one-manned, compact helicopter for the Marine Corps, the Navy believed that the stability and reduction of size afforded by the coaxial rotor system made the helicopter's design best utilized as a drone.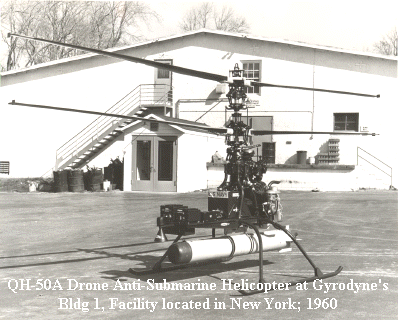 In June of 1958, the Chief of Naval operations determined that operational drone helicopters would be required in the fleet beginning in fiscal year 1962. To meet this requirement, it was planned that the DASH program should proceed on a three-phase basis. The first phase would be to buy an initial quantity of nine DSN-1 (later QH-50A designation) (as seen left) and three DSN-2 (later QH-50B designation) helicopters for research and development purposes.
The second phase would be to buy a larger limited number of twin engine DSN-2 (later QH-50B designation) helicopters. It was planned that these drones would be used in the fleet beginning in July 1961 until the more advanced drone, the DSN-3 (later QH-50C designation) could be delivered to the fleet. The third phase of the program would be a design competition which would lead to the production of operational quantities of the QH-50C drone. Under this plan, fleet deliveries of the QH-50C were to begin after July 1963.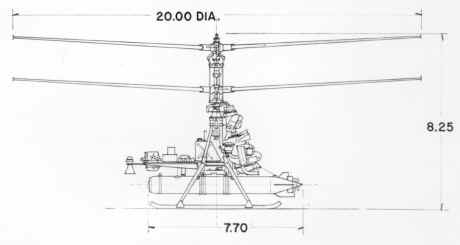 Accordingly, in keeping with it's plan, the Navy issued its authorization to proceed with the droning of the XRON-1 helicopter as the model QH-50A drone (seen right) on December 31, 1958, under Contract NOas 59-0219-c in order to initiate the DASH program. The award was a cost-plus-a-fixed-fee contract which covered the initial purchase of the nine DSN-1 and three DSN-2 aircraft. Under this contract deliveries to the Navy occurred from June 1960 through December 1961.

The QH-50A goes into Production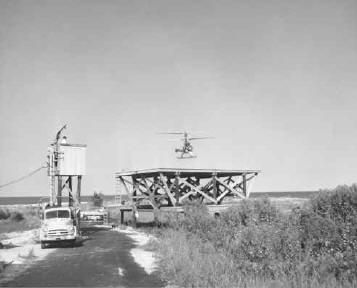 The QH-50A was to be the evaluation prototype for the airborne portion of the system and be capable of carrying one Mark 43 homing torpedo.
The first flight under remote control was accomplished on August 12, 1960 (seen left). This marked the first successful free flight of a drone helicopter in the world.
The QH-50A was successfully demonstrated at NATC, Patuxent River, MD,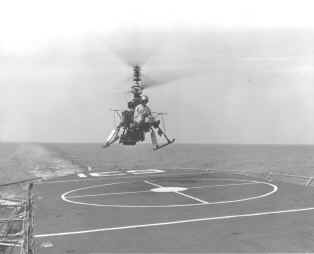 for ground and ship's operation and at NAS Key West, Florida, for simulated tactical operations.
During the development of the remotely controlled helicopter, Gyrodyne had used the assistance of a safety pilot in order to abbreviate the development time of the autopilot and remote control equipment and also provide for safety of flight during the developmental stages. As seen at right, a QH-50A makes its approach to the destroyer, USS Hazelwood (DD-531) off the coast of Key West, Florida on September 12, 1960.
Serial Number History

QH-50A Drone (referred to DSN-1 prior to 1962)

The following Nine Aircraft were ordered under Contract NOas 59-0219-c, BASIC

Serial Number

Number Produced

Acceptance Date

DASH Program Use

Disposition

DS-1000
1

March 1960

Tests and Demonstrations -LAD Development

DS-1000 served the longest period- 14 months until retirement. During its term it help test the Landing Assist Device (LAD); an aid to landing helicopters on rolling pitching ship decks. While it survived, its' location is not known.
DS-1001
1

April 1960

Tests and Demonstrations

While Flying Contractor demonstration flight at Patuxent River, MD, aircraft crashed on August 24, 1960. Aircraft had operated for 2 months.
DS-1002
1

May 1960

Tests and Demonstrations

While Flying Contractor demonstration flight at Patuxent River, MD, aircraft crashed on September 2, 1960. Aircraft operated for 2 months.
DS-1003
1

June 1960

Tests and Demonstrations

While Flying Contractor demonstration flights from USS HAZELWOOD (DD-531) at Key West Florida, aircraft crashed into sea on November 17, 1960. It operated for 3 months before loss.
DS-1004
1

September 1960

Tests and Demonstrations

Used for OPTEVFOR (Operational Evaluation) for 5 months, this aircraft survived it's test program but present location is not known.
DS-1005
1

September 1960
Tests and Demonstrations
This aircraft served for 10 months, and was used for AN/APN-140 (XN-1) electronic altimeter set development before being retired July 1961. Location is unknown.
DS-1006
1
October 1960
Technical Evaluation
Serving for 5 months until being bailed back to Gyrodyne for further study, aircraft was retired on March 1961. It was then "re-activated" under contract NOas 59-6096 for the Tilt-Float program. Current location is unknown
DS-1007
1
November 1960
Technical Evaluation
Having served for only 2 months, this aircraft was lost during OPTEVFOR evaluations aboard the USS HAZELWOOD (DD-531) at Key West, Florida on February 27, 1961.
DS-1008
1
December 1960
Technical Evaluation
While it began as a manned drone in March 1960, it was rebuilt to pure drone version by December 1960. It was later transferred on April 4, 1961 to NADC Johnsville for qualification and control systems design verification tests. Its' present location is not known.
The QH-50B goes into Production but gets Cancelled.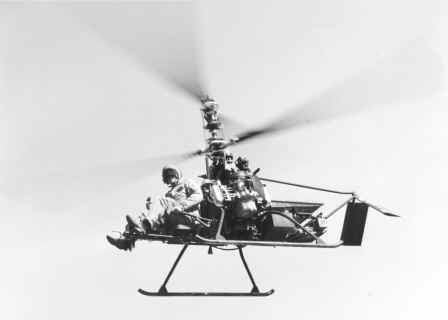 In the summer of 1959, the Navy's Ships Characteristics Board decided that aviation gasoline, a fire hazard aboard destroyers, should be removed from destroyers that were able to carry DASH drones. Since the DSN-2 drones (seen left with safety pilot) used gasoline powered Porsche engines, the Chief of Naval Operations directed that the planned DSN-2 (later QH-50B designation) production procurement for fiscal year 1960 not be made and that the QH-50C turbine-powered drone, using the less dangerous jet fuel, be placed into development. Subsequently, only the original three DSN-2 aircraft were ever produced and remain at Gyrodyne to this date, as non flyable airframes.
After all DASH work was shifted from the gasoline burning QH-50A/B models and to the jet fuel burning QH-50C, the A models were eventually used as targets at Point Magu, California in 1965 for missile testing. Only 2 survive to this date and they are in private collectors hands.

As the QH-50A remains today and did in 1960 as a valid and viable choice as an entry level coaxial platform, we supply the following data for those interested in the light-weight and compact A model.
PERFORMANCE SUMMARY

QH-50A Drone

Take-Off Loading Conditions-ASW Attack, Full Fuel
QH-50A First flight of prototype on April 20, 1960

Power Plant

Weights
Engine
Empty
510 lbs
Manufacturer
Porsche, Model YO95-6
Normal Gross I
900 lbs
Type
4 cylinder, 4 cycle, Reciprocating
Normal Gross II
1100 lbs

Ratings

Fuel and Oil
BHP
RPM
ALT
Fuel Tanks
One
Gallons
9.0 gal.
Military
72
4500
SL-68 degree
Grade
100-LL
Location
Fwd- Trans
Normal
72
4500
SL-68 degree
Oil Spec
30 weight
Oil Capacity
4 quarts

Ordnance

Electronics

Weapons:
MK-46 single Torpedo
AN/ARW-78 - 1 set
Radio Receiving Set
or, external payload
300 lbs
AN/ASW-20 - 1 set
Auto Flight Control Set

For the Purpose of Prosperity, we herein also state the Characteristics of the three QH-50B aircraft that were produced for the DASH weapon system and served as developmental models.

Serial Number History

QH-50B Drone (referred to DSN-2 prior to 1962)

The Three Aircraft were ordered under Contract NOas 59-0219-c, Amendment 1

Serial Number

Number Produced

Acceptance Date

DASH Program Use

Disposition

N-200
1

October 1960

Ground Tests conducted by Gyrodyne

N-200 was used for a 25 hr. ground test. It served for 5 months until retirement in February 1961.
N-201
1

November 1960

Flight Envelope and N-202 back-up; used by Gyrodyne

Serving for 11 months, this manned-drone continued to expand the flight envelope to qualify the DSN-2 to DASH specifications. It was retired in October 1961
N-202
1

December 1960

Checkout of First DSN-3 Digital control group by Gyrodyne

Picking up where N-201 left off, N-202 was the test bed for the QH-50C's automatic flight control system including shipboard checkout of LAD up to sea state 3

All three DSN-2 aircraft were scrapped in 2002
PERFORMANCE SUMMARY

QH-50B Drone

Take-Off Loading Conditions-ASW Attack, Full Fuel
QH-50B First flight on September 30, 1960

Power Plant

Weights
Engine
Empty
819 lbs
Manufacturer
Porsche, Model YO95-6
Maximum Gross
1450 lbs
Type
4 cylinder, 4 cycle, Reciprocating
Fuel (11 gallons)
66 lbs
Quantity
Two
Oil
22 lbs
Horsepower
Total 144 hp
Payload
543 lbs

Performance

Fuel Consumption
Fuel and Oil

Speed

Knots
Speed
Lbs/hr.
Fuel Tanks
One
Gallons
11.0 gal.
Vmax at S.L.
76.8
at Vmax

81.2

Grade
100-LL
Location
Fwd- Trans
V cruise
63.0
at cruise

63.0

Oil Spec
30 weight
Oil Capacity
8 quarts

Rate of Climb

Hovering Ceiling

Endurance & Range

Vertical
640 ft/min.
Out of Ground Effect
2,950 ft.
Maximum Endurance
1.06 hr.
Maximum with Forward Speed
1,162 ft./min.
Service Ceiling
8,600 ft.
Maximum Range
68 n. miles

Dimensions

Lengths

Widths

Height & Rotor

Max Length (rotors)
20 ft. 0 inches
Width (skids)
5 ft. 7 inches
Height (overall)
8 ft. 3 inches
Length (fuselage)
7 ft. 0 inches
Width (fuselage)
4 ft. 6 inches
Rotor Diameter
20 ft. 0 inches

Ordnance

Weapons:
MK-43 single Torpedo
or, external payload
500 lbs